My calendar is filing up very quickly. I didn't realize how much I had planned until I took the time to write it all out.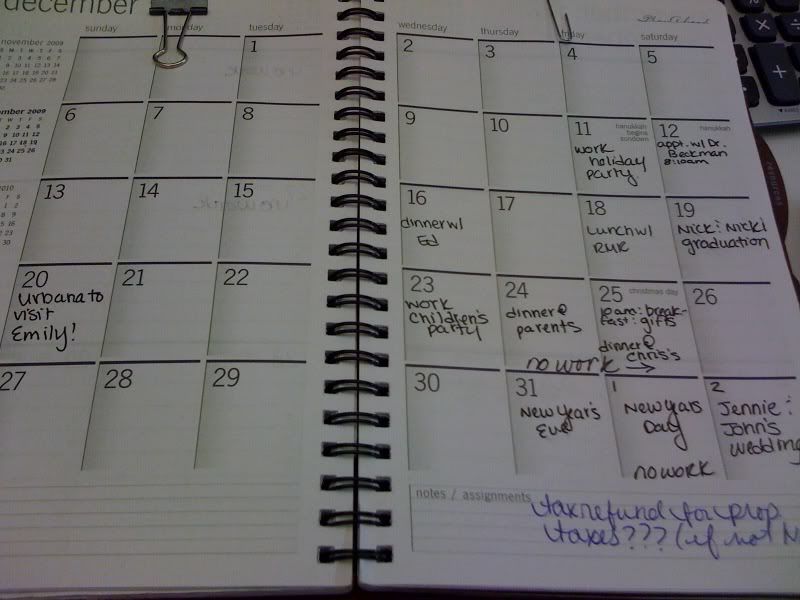 You should know -I always carry a planner with me, but I'm awful about actually writing in it. I always have the best intentions and the worst execution when it comes to organization.
Despite that looking pretty jam-packed (and even missing a few commitments) things have been falling into place nicely though so I don't feel like I'm over-doing it or passing on things I want to do because I don't have time.
Tomorrow is out company holiday party. The bus leaves the office for Lucky Strike Lanes at 11:30. Woo-hoo half day of work! I'm sure the party will be a great time. I'll also be forced to keep my drinking in check because…
…I have a doctor's appointment first thing Saturday morning and they're doing follow-up blood work. This means Friday will be an early night since I can't eat or drink anything after about 8pm.
After my doctor's appointment, I'm going right to my parent's for Gingerbread Fest '09.
Sunday I'm meeting my friend Colleen for lunch. She's one of those friends I wished I got to see much more often, but our schedules are so conflicting we're lucky if we can get together once every other month.
I also hope to finish off the rest of my Christmas shopping on Sunday. My two brothers are really the only two I have left to shop for, and I am totally stumped on what to buy for them. What do you get a 22 year old and a 16 year old that basically have everything they could need/ want? I told them if they didn't get me ideas soon they were both getting socks and underwear.
Next week I have dinner with an agent on Wednesday evening and lunch with an agent on Friday afternoon.
Saturday morning we're packing up to head down to Eastern Illinois University to watch Nick and Nicki (my brother and his girlfriend). We'll also be packing up the rest of Nicki's stuff to move her back home. We're spending Saturday night in Charleston (College bars here I come! lol), and then on Sunday I'm stopping in Urbana to visit with my friend Emily.
This actually could not have worked out any better. Emily was my last roommate in college (and one of two to whom I still speak), and she's currently in grad school at UCSB. She wasn't sure if she'd be able to make it up to Chicago to visit while she's home on break. Since Urbana is literally on the way to/ from Charleston, it would be silly for me not to stop and visit.
Then we're just a few days form Christmas. On the 23rd we have out Children's Party at work. People bring their kids (or grandkids) to work and we have crafts and games and pizza and Santa. We also more or less get a half day out of the deal.
This (holy crap!) bring us to Christmas plans!
I'll be spending Christmas Eve with my family: Dinner at my parent's house and then midnight mass. We used to spend Christmas Eve with my dad's side of the family since it was my grandmother's birthday, but since she passed and the only other relatives on my dad's side live in Colorado, we not just spend the evening doing dinner and church. We have a pretty decadent and indulgent dinner though. Every year we have Alaskan king crab legs, filet mignon, and crème brulee for dessert. It's gotten to the point where we don't even make vegetables with the meal anymore. I think I might lobby for (or bring) some broccoli. My healthy conscious won't allow me to not eat at least a little bit of veggies.
Christmas Day Chris and I will be heading to my parent's in the morning and his mom's in the evening. I'm going to make breakfast at my parent's house and then we'll open gifts and hang out for a while. Originally, I invited my family to my place for breakfast and gifts, but it seemed easier for the two of us (Chris and I) to go to them rather than the six of them come to us. In the late afternoon/ early evening we'll head over to Chris' mom's house for Christmas dinner and more gifting.
This post actually went off in an entirely different direction that I think I originally intended. Oh well! What are your plans for the Christmas? If you don't celebrate Christmas, do you celebrate a winter holiday? Which one? What are you plans for that?