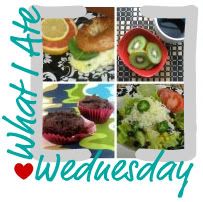 Welcome to my first What I Ate Wednesday!  Here's your first opportunity to see how I spend my daily points.  This is actually what I've eaten today.  Enjoy my crappy sub-par phone camera pictures!!
In my haste to actually go eat my dinner I failed to hit publish last night.  #EpicFailWhale.
Breakfast
2 egg + 2 T cheddar cheese omelet with about 1/4 c of peach mango salsa with a side of vitamin supplements.  This is pretty much my breakfast every day.  I need a pretty protein heavy breakfast otherwise I'm starving an hour or two later. Points+ value 6
Snacks
Before lunch I had a banana that went unphotographed.  It was an ugly banana anyway all bruised from being transported in my bag.  After lunch I had this awesomely delicious oatmeal raisin chocolate chip cookie.  My boss's wife stopped by the office to visit with their son, and she brought these cookies.  It was seriously the best cookie I've had in a long, long time.  I asked my boss to obtain the recipe for me.  Apparently the secret ingredient is lots of butter.  Points+ values 0 for the banana and about 6 for the cookie.
Lunch
Lunch was a salad featuring leftover Grilled Margherita Portobello Burgers from last night's dinner.  Tasty and filling  Points+ value 2 points
Dinner
Dinner has not actually been eaten yet, but it's this delicious looking slow cooker BBQ pulled pork sandwiches (recipe on Monday) on homemade sandwich thins with Trader Joe's sweet potato chips on the side.  Points+ value 7 for the BBQ pork, 3 for the sandwich thin and 4 for the chips.  14 points+ total for dinner.
Total Points+ Used 28.
Next week I'll do a better job with photos, and ya know, actually posting on Wednesday.  I promise.